Amish Furniture
American-made by the Amish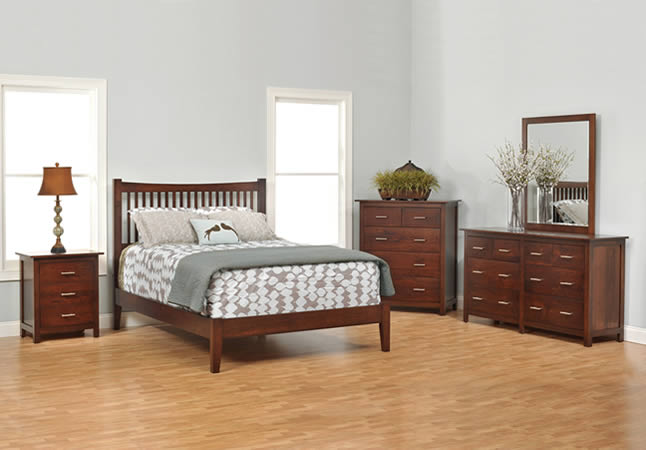 Ashton Bedroom Group
The simple elegance of the Ashton Collection is a thing of beauty that makes extravagance look gaudy. Simple details like the recessed panel doors and side panels allow the simple beauty to shine.
The straight, clean lines of Ashton echo the principles by which we work at Millcraft. We build furniture the right way, because it's the right thing to do. It functions as beautifully as it looks, not just for you, but for the next generation. Explore all the options available to you in the Ashton Collection.
It's simple. It's personal. It's compelling.
Royal Bedding displays this group in a Rustic Cherry Wood, stained in a Michaels Finish.  Each piece of handcrafted furniture is available with different hardwood and hardware options.
Fur Elise Bedroom Group
Step inside…the Für Elise Bedroom. Welcome to the warmth and bliss of a good night's rest. Built to be there for you, every day, every time you need it. Just like a good friend.
The Für Elise Bedroom is one-of-a-kind. Solid hardwood insets laced with intricately trilled moldings with pillars and epistals of like workmanship, crowned with entablatures a full 3/4″ thick. Deep-seated drawers are standard with concealed, fully extending ball-bearing slides. We have photographed the Für Elise in cherry with Brandywine glaze and Washington stain, but we'll make Für Elise your flavor with over twenty standard stain colors and a handful of glazes, paints and distresses we have available. Choose from Edison, Vintage Illusion, or Modern Hardware to complement your finish choice.
Für Elise… the bedroom you'll want to come home to.
The Fur Elise Bedroom group is displayed on our showroom floor in oak, and is stained in Seely. You have the choice of wood, stains and hardware. The photographs show the bedroom group in Cherry with a Brandywine glaze.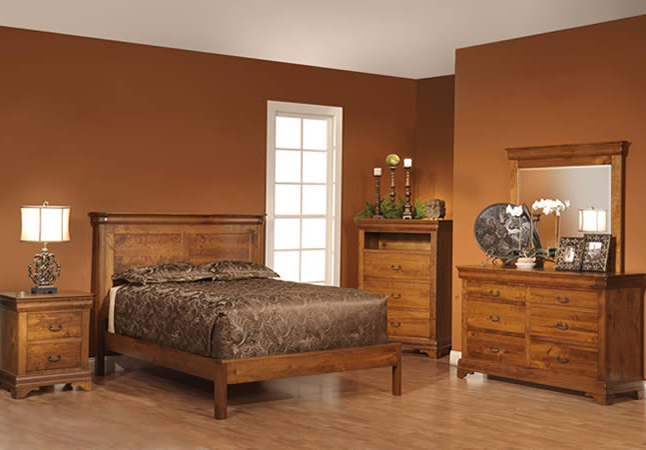 Versailles Bedroom Group
Simple isn't always easy…There is a rhythm of strength and grace in the well-lived life. Like the towering oak tree that sways in the storm, strength is at its best when tempered by grace. The solid principles we live by, the grace we receive, and the grace we give.
And so the Versailles Collection from Millcraft is a welcome sight at the end of the day. With subtle curves and delightful details, make it your own with a distinctive finish and hardware.
The graceful curves, the personal attention, the individual touch combine to give an everyday grace to the best furniture we can build. The Versailles Collection will become your place of respite, of tranquility.
Strength to rely on. Grace to welcome you. Only from Millcraft.