 Mantua Rize Clarity
Mantua Rize Clarity Overview
The Clarity is a full-featured adjustable bed that will give you a restful night's sleep, all at an entry-level price.
Relieve aches and pains to wake up refreshed by adjusting the head and foot sections to find your perfect sleeping position. Use the pre-programmed buttons to reduce snoring with the anti-snore position, get support while you relax in the incline setting, and take pressure off your body in zero gravity – or create and save your own favorites. Get the height you want with adjustable legs that raise or lower the height of the base from 12.25 to 18.25 inches. Whatever you need help for in bed, the Clarity has a solution.
Key Features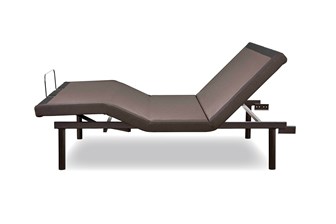 Programmable positions
Once you find a favorite position, you'll never want to go back, so save those custom settings to use any time.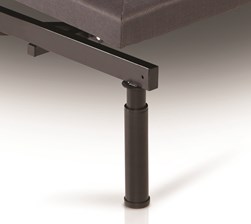 Adjustable legs
Get on up or get down with adjustable legs that raise or lower the deck to the height you want (12.25 to 18.25 inches).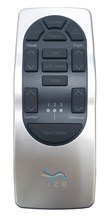 Remote and app
An ergonomic remote designed just for the Clarity will make it easy to get into relaxation mode. And we made it even easier by adding a mobile app so you don't have to put down your phone.
Clarity Features
| Feature | Description |
| --- | --- |
| Anti-Snore Position | Sleep better – use the anti-snore position to reduce snoring (for you or the person next to you). |
| Zero Gravity Position | Improve blood flow, reduce back pain, and feel almost weightless in zero gravity. |
| Incline Position | Get neck support and lift your feet up for better support and relaxation while you read, work, watch, or browse. |
| Improved Lift Capacity | Don't be afraid to get close – two heavy-duty motors lift up to 850 lb. per base. |
| Steel Post Legs | For extra durability, we use steel post legs that can support even the thickest mattress. |
| Classic Platform Design | Simple, elegant body blends with any decor. |
| Continuous Motion Mode | Set the bed to go through a series of positions automatically. |
| Fit | Rize beds are designed to fit inside most existing headboard/footboard/rail systems. |
| Auto-Flat | Press one button to return to a flat, neutral position. |
| Heavy-Duty Motors | Two durable motors provide a lift capacity of up to 850 lb. per individual base. The horizontal King & Cal-King single-base models offer one motor with a lift capacity of 1,000 lb. |
| Gravity Release | Rize motors also have a built in safety feature to reduce stress on objects caught under the bed, so there's no worry about pinching or pressing. |
| Battery Backup | Even during a complete power outage, the replaceable fuse of the battery backup system allows you to return your bed to a flat, sleeping position. |
| Adjustable Headboard Brackets | Available for additional purchase, these headboard brackets make it easy to attach your favorite headboard to your adjustable bed. |
Clarity Features
Clarity Features
| Feature | Description |
| --- | --- |
| Anti-Snore Position | Sleep better – use the anti-snore position to reduce snoring (for you or the person next to you). |
| Zero Gravity Position | Improve blood flow, reduce back pain, and feel almost weightless in zero gravity. |
| Incline Position | Get neck support and lift your feet up for better support and relaxation while you read, work, watch, or browse. |
| Improved Lift Capacity | Don't be afraid to get close – two heavy-duty motors lift up to 850 lb. per base. |
| Steel Post Legs | For extra durability, we use steel post legs that can support even the thickest mattress. |
| Classic Platform Design | Simple, elegant body blends with any decor. |
| Continuous Motion Mode | Set the bed to go through a series of positions automatically. |
| Fit | Rize beds are designed to fit inside most existing headboard/footboard/rail systems. |
| Auto-Flat | Press one button to return to a flat, neutral position. |
| Heavy-Duty Motors | Two durable motors provide a lift capacity of up to 850 lb. per individual base. The horizontal King & Cal-King single-base models offer one motor with a lift capacity of 1,000 lb. |
| Gravity Release | Rize motors also have a built in safety feature to reduce stress on objects caught under the bed, so there's no worry about pinching or pressing. |
| Battery Backup | Even during a complete power outage, the replaceable fuse of the battery backup system allows you to return your bed to a flat, sleeping position. |
| Adjustable Headboard Brackets | Available for additional purchase, these headboard brackets make it easy to attach your favorite headboard to your adjustable bed. |