If you have recently started looking at who makes double-sided mattresses, you will have seen many custom-mattress options online. There is an increasing number of double-sided mattress brands that all provide different sized mattresses to fit a range of preferences and budgets.
However, if you are looking for a custom mattress, there is no doubt that you will have had to look at the price and if you ask any of our competitors how expensive a custom mattress is, you will have probably been told that they cost a lot of money. At Royal Bedding, we have a range of high-quality custom mattress that is delivered at a favorable price to deliver superb value without compromising on the quality of the product.
Great Value and Superb Quality without Compromise
The best two-sided mattress can be yours with Royal Bedding's range of flippable mattresses to suit all budgets. We offer entry level, mid-level, and premium mattresses, each of which comes with distinctive benefits and in our opinion (and our customers!), provides superior comfort at an affordable cost.
When you buy a custom mattress, you want something that is going to withstand the test of time. After all, you are investing in something you want to last, and above all else, you want to get a comfortable custom mattress that you will enjoy spending time on.
Custom Mattress Costs
Entry-Level Quality Mattresses
Our completely custom entry-level quality mattresses cost from $600 to $1,000 dollars.
As with most mattresses, the cost of the mattress can depend on the features you desire. Even our entry-level quality mattresses come standard as double-sided, flippable mattresses, with high quality materials. Royal Bedding proudly offers entry-level mattresses that provide more padding with a higher-grade of materials for a low cost than most of our competitors.
I'm Interested in an Entry-Level Quality Mattress
Mid-Level Quality Mattresses
Our completely custom mid-level quality mattresses cost from $1,000 to $1,800 dollars.
There are many two-sided mattress manufacturers that load their one-sided mattress with plush padding, which feels great to begin with. However, after just a few years, the padding takes a set, and this results in a hole or groove that is very difficult to role out of. We provide the best-rated two-sided mattress with high-quality spring or a foam core that houses denser padding that is placed on both sides of the mattress. With this, you get a better level of support that lasts far longer than most of our competitors.
I'm Interested in an Mid-Level Quality Mattress
Premium-Level Quality Mattresses
Our completely custom mid-level quality mattresses cost from $1,800 to $2,500+ dollars.
Royal bedding provides the best innerspring mattresses, and our range of premium mattresses will always have padding on both sides, using upholstery grade latex or foam, which is by far the best padding option for mattresses. This provides the best support, durability, and comfort.
Custom Size Mattresses
At Royal Bedding, we are proud to service the needs of any client who needs something a little bit different. Our custom mattresses can be made to fit antique beds, cabins, yachts, custom built-beds, special needs bed, tree houses and any other application of your choosing. However big or small your requirement, we can make a bespoke mattress for you that you will be proud of and enjoy spending time on.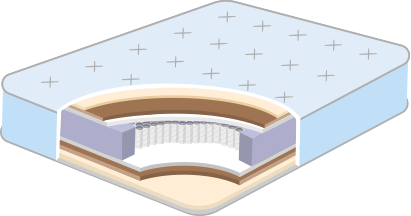 While pricing for custom mattresses can vary depending on the size, Royal Bedding offers superb value across our entire range, and this includes our custom-made mattresses.
What About Beds In A Box?
We know many of our competitors offer a bed in a box and some will even give you a free trial at home. However, if you consider what they do with any mattresses that are returned, could you be ordering and sleeping on one of these returned products? Are they making that much money that they can afford to write these sales off? AIso, you need to consider what value and what quality of components you are actually getting in your mattress if they can afford to offer such deals.
We Can Rebuild Any Of Our Custom Mattresses
At Royal Bedding, we are an ethical double-sided mattress manufacturer. We are the only company in Alabama and far beyond that can take back your mattress, take it apart, and then rebuild it to suit your precise preferences for the feel. This is something our customers love, and we know that is makes us unique. We can make it firmer or softer depending on your precise feedback and we do the labor at no additional cost to you. We promise to deliver real value by offering to change the composition and feel of the mattress if it doesn't suit you.
We don't just want our customers to be happy, we want them to feel delighted. Going the extra mile is all part of our standard service.